Community
Hot news
SAD STORY IN A REMOTE COMMUNE
07/04/2022
What do you see after the past volunteer trips?
Is not seeing the things around that people call fame
Only see love when sharing each other pieces
Is it a piece of cake, a sweater or a pair of forest sandals
What do you see beside the cheers ?
It's a picture of a 5-year-old boy carrying his brother who is thirsty for milk
In that area, people must find ways for a proper meal ?
YES. That is right. The children in the highlands are still suffering!
In the winter, everyone's face is red
Not because of the hot sun, but because of the cold winter
So how many feet are worn with sandals ?
Even the children, the shirt is still tattered!
In the city, we keep running like chaos
Try going to the highlands and you will have tears in your eyes
Not because of the things that we always wonder
Just simply, there is not a piece of cucumber for the meal
Those are all the feelings that my brother and sister whenever we have the opportunity to participate in a charity trip in the highlands. It is the feeling of the heart tighten up when we see the unfortunate lives of the children, the feeling of extreme sadness when we accidentally hear a story about the plight of a few children here.
….
Ending the 7th day with mixed emotions. We return to the hotel to rest when the clock is already close to 12 o'clock at midnight. The next morning, the group gathers at 5:15 a.m. and take off to Loc Binh Town to attend the program. 
It's cold in the early morning in this mountainous area! Dense fog covered the whole space. The car drives in the cloudy weather with white fog. Everyone seems to be tired, but we also try to tease the driver with a sentence: Take care driver! We are about to close our eyes and take our soul to heaven! The whole car laughed for a while, then quieted down as everyone fell asleep... 
7h30…
The program begins with a series of successful activities. This time, Kien Vuong donates 200 sets of clothes, 200 warm coats and 200 pairs of slippers to children from elementary to high school with difficult circumstances. 
These gifts are planned to be divided and distributed to the three poorest communes in Lang Son province: Nhuong Ban commune, Yen Khoai commune, Xuan Man commune. Although the plan is like that, but because the program of the day is very long, so the organizers decide just go directly to Nhuong Ban commune to give gifts. The rest of the gifts will be sent to the members of the union members of Yen Khoai and Xuan Man communes to give to the children later.
It is about 30 kilometers from the place where the program is held to Nhuong Ban commune. This is one of the three most economically disadvantaged communes in the province. 100% of the San Chi ethnic group, they attach their life to the forest, clinging to the forest from the most difficult days.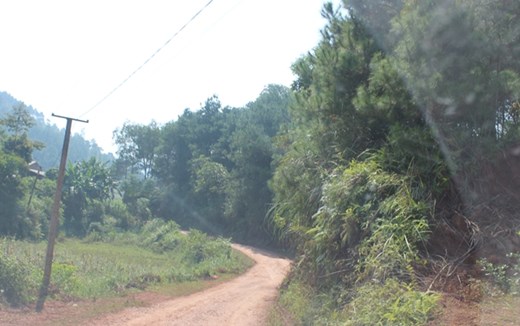 Road to Nhuong Ban Commune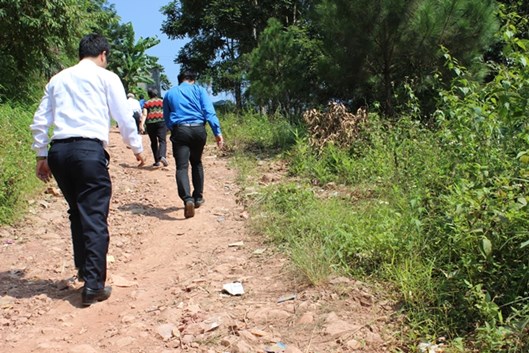 To get to the school site - the place where the awarding ceremony is held, the group has to walk and climb a very high slope
That day we have the opportunity to talk to Mr. Dau - Former Chairman of Na Pan Cooperative. We still remember vividly about 15 years ago, when this Nhuong Ban commune had no electricity, no roads, people did not know what to do for a living... Every year, only one crop of upland rice could be grown, "The grass is taller than the rice in every crop". Poverty continued to follow the pine hills planted just to get firewood. Every day, people carry firewood and walk for kilometers to the district market to sell, but the proceeds are only enough to buy salted butter and rice. He said: "since people planted pine trees to exploit plastic and wood processing, people's lives have gradually become more stable. But the children here are still suffering. Because in addition to lack of food, they also have to suffer the loss of their father because their father have to go to prison due to smuggling goods across the Border".
As soon as he finishes speaking, Mr. Dau turns to show us a little girl who is wiping her brother's face, about 2 years old, and then said: "Speaking of which, that's Beng. There are only two siblings at home. They live with their mothers! Their father has been arrested. Caught a long time ago. His father saw that his two children's stomachs were so hungry, his father listened to people's temptations, took risks, went to the Border to get goods to sell to evade taxes and was arrested. Now their mother is working in paddy field. She has to carry her younger brother to school with her." 
Two siblings of Phi Beng family

Approaching to talk to her, at first, this 6th grade girl is shy and do not want to talk to us. Only after Uncle Dau speaks, she begins to open up more.
Answering our questions fluently, Phi Beng shares: "Phi Lu ( the younger brother ) has been sleeping on my shoulder since Phi Lu was less than 1 year old. My mother has to go to the paddy fields, she has to work to buy rice for us to eat. When the house runs out of rice, my mother and I eat men men (a dish made from corn of the ethnic people)"
We ask them: "So when Phi Lu is under 1 year old but you have to carry him to school, how do you learn? How to take care of him?"
The sister answers: "Phi Lu is very good. In the morning, my mother cooks rice, drains the rice water into a bottle, and then gives it to Phi Lu to drink. When I go to class, I study, and Phi Lu just sleeps. When Phi Lu cries, I give Phi Lu rice water. When he cries too much, the teacher comforts him"
We ask: "So Phi Lu does not have milk to drink? And only when your mother goes to the District market to sell firewood and corn, that is when Phi Lu can drink milk ? ...And you? How about you? Do you find it difficult to study? Do studying and taking care of your brother at the same time affect your study ?"
The sister answer: "It's okay. I'm familiar with it. I have to learn the word! Learn to read so that you won't be lured like my father. My mother told me so"
Our heart shrink when we hear the innocent answers from Phi Beng. And Phi Lu just keeps staring at us. Probably because he feels strange.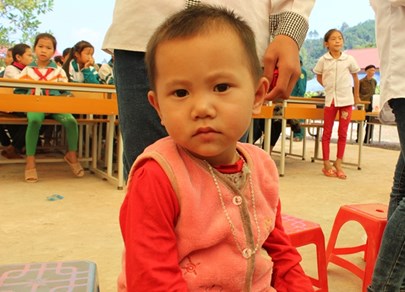 At a very young age, Phi Lu has to suffer too many disadvantages
Most of the children here, even though they are in 6th grade, are all small due to lack of nutrition
11:30 am…
The event ends. We get back into our to leave. Sitting in the car, going on the winding road, the car goes up and down again and again because the road surface is too bumpy and convex. We think, maybe only when the roads are more perfect, people's lives here can develop. Children like Phi Lu will have milk to drink, and Phi Bang will not have to bend over and carry her brother on her shoulders to go to school. But... will that thought ever come true?!
---
Another news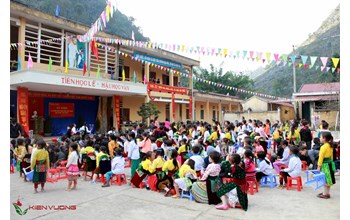 THE JOURNEY TO SPROUT ON THE ROCK
Somewhere on this S-shaped strip of land, there are still many miserable people that even if we have been there, we can only feel a part of their hard life. People often give the land of Ha Giang beautiful nouns such as "beautiful in the heart of the Tam Giac Mach flower season", "ideal roads", "beautiful scenery like paradise"... but perhaps nature That ideal and beautiful path is not for you - the hardy sprouts stretching themselves on the rock.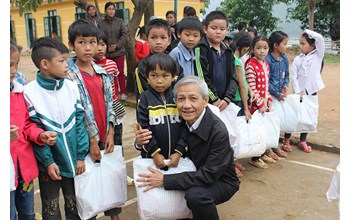 300 GIFTS HANDED OVER TO POOR CHILDREN IN HA TINH
With the help of Ha Tinh Provincial Youth Union, on August 26, Kien Vuong comes and hands over 300 sets of clothes, 300 plastic slippers and 3000 notebooks and sweets to poor students overcoming difficulties in 2 districts Thach Ha and Can Loc belong to Ha Tinh province. In order for timely gifts to reach children in the new school year, it is thanks to the cooperation with local authorities to search for students with difficult circumstances but have the will to study and practice well. The overriding goal is still to make sure the help goes to the right place, to the right person, and really means something to the recipients.