Community
Hot news
300 GIFTS HANDED OVER TO POOR CHILDREN IN HA TINH
07/04/2022
With the help of Ha Tinh Provincial Youth Union, on August 26, Kien Vuong comes and hands over 300 sets of clothes, 300 plastic slippers and 3000 notebooks and sweets to poor students overcoming difficulties in 2 districts Thach Ha and Can Loc belong to Ha Tinh province. In order for timely gifts to reach children in the new school year, it is thanks to the cooperation with local authorities to search for students with difficult circumstances but have the will to study and practice well. The overriding goal is still to make sure the help goes to the right place, to the right person, and really means something to the recipients.
Like many poor rural areas of Ha Tinh province, the buffalo and the paddy fields are the main occupation of the people of Thach Ha and Can Loc districts. However, nature is not favorable, the terrain is mountainous, dangerous, low plains, irrigation for agriculture is also very limited, crops rarely get a good year. Chance of losing is much higher than other districts of the province. The standard of living is therefore only enough to eat and clothe, but the education of children and grandchildren is always a top concern. Because they are always aware that if they cannot go to school, do not have a decent job, the solution for Ha Tinh youth is to leave their hometown to the city, or go to Cambodia or Laos and become illegal workers in foreign countries - which is what no one wants.
About 20km south of Ha Tinh city, the road leading to Thach Ha and Can Loc districts is flanked by hills with mountains on both sides, houses with red roofs, rows of green areca trees wrapped around, lush green fields, waiting for the harvest day. Appearing in front of our eyes is the appearance of a peaceful countryside in the new sun. A poor countryside but with many glorious victories in history, a poor countryside but is also hometown of many heroic people who have become legends.
Crossing the paved village road that cuts through small fields, the first destination of the delegation is the Hall of the Viet Xuyen Commune Committee, when the delegation arrived, although it is not yet time to start the gift giving program, all 150 children gathered under the guidance of the teachers. As soon as we see them, the first thing that pop into our mind is: the clothes and shoes that have been divided by age must be too big for them! The children at the age of "eat, sleep, and study well" like many of their peers, but their bodies are as tiny as candy sticks, plus the tanned, tough brown skin of children of central region, looks both lovely and heartwarming at the same time!
Tôi chợt nhớ đến những em bé trên cao nguyên đá Đồng Văn tí tuổi đầu đã biết địu em trên lưng để đỡ đần cha mẹ, mùa đông đến trường bằng đôi chân trần giữa cái rét cắt da cắt thịt, rồi những đứa trẻ ngày ngày lặn lội đến lớp trên con đường hiểm trở, một bên là vách núi cheo leo, một bên lòng hồ sông Đà sâu thẳm với bao nguy hiểm luôn rình rập. Tương lai các em rồi sẽ đi về đâu, các em không thể nào cứ trông đợi mãi vào tấm lòng của những nhà hảo tâm, không thể mặc mãi những chiếc áo ấm nghĩa tình...Nếu một ngày không còn sự san sẻ từ cộng đồng, liệu các em có còn đủ "sức" để tiếp tục đến trường? Đó cũng là điều mà Chú Quí và Cô Hiền trăn trở sau mỗi chuyến đi. Điều chúng ta mong đợi là ở sự bền vững và lâu dài, con cá phải đi liền với cần câu. Chúng ta không chỉ gánh vác giúp các em một phần khó khăn trong cuộc sống lúc này mà còn là tạo thêm động lực để chính các em tự mình "đi câu", tự vươn mình lên khỏi số phận, để làm giàu trên chính quê hương mình. Và thật ấm lòng khi nghe các em hào hứng nói về ước mơ sau này: "Ước mơ của con là gì? - Con muốn được làm thợ xây, để xây nhà cho mọi người ở!" Tôi dường như bắt gặp lại ánh mắt sáng ngời của cô bé dân tộc Mông khi nói về ước mơ được trở thành một cô giáo mầm non. Và chúng tôi muốn được chung tay cùng cộng đồng chắp cánh cho những ước mơ của các em bay cao, bay xa hơn nữa...
We suddenly remember the little children on the Dong Van rocky plateau who knows how to carry their children on their backs to support their parents, go to school with bare feet in winter, in the cold, and then the children every day, wading to class on a dangerous road, one side is craggy cliffs, one side is Da river lake with many dangers always lurking. Where will the children go in the future, they cannot wait forever in the hearts of benefactors, cannot wear warm clothes forever... If one day there is no more sharing from community, will they still have the "power" to continue going to school? That's also what Mr. Qui and Ms. Hien worry about after each trip. What we expect is the sustainability in long-term, the fish must go hand in hand with the rod. We not only put on our shoulder some of the difficulties in their lives at this time, but also create more motivation for them to "go fishing" by themselves, to rise above their fate and become more successful. And it is heartwarming to hear the children excitedly talk about their future dream: "What is your dream? - I want to be a constructor, to build houses for people to live in!" We seem to catch the bright eyes of a Hmong girl when talking about her dream of becoming a pre-school teacher. And we want to join hands with the community to give wings to their dreams to fly higher and further...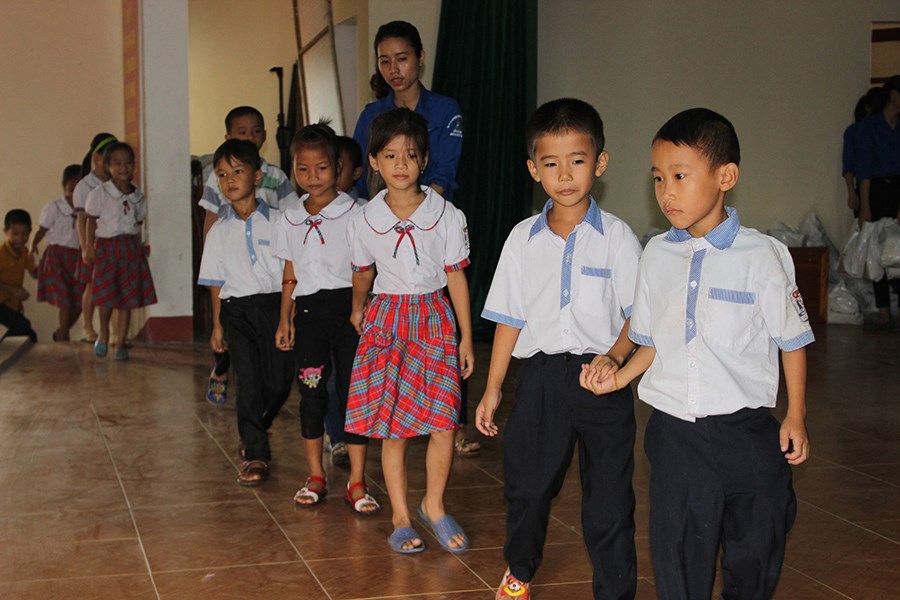 When called to the podium to receive gifts, the children line up in an orderly manner without any fuss, or pushing each other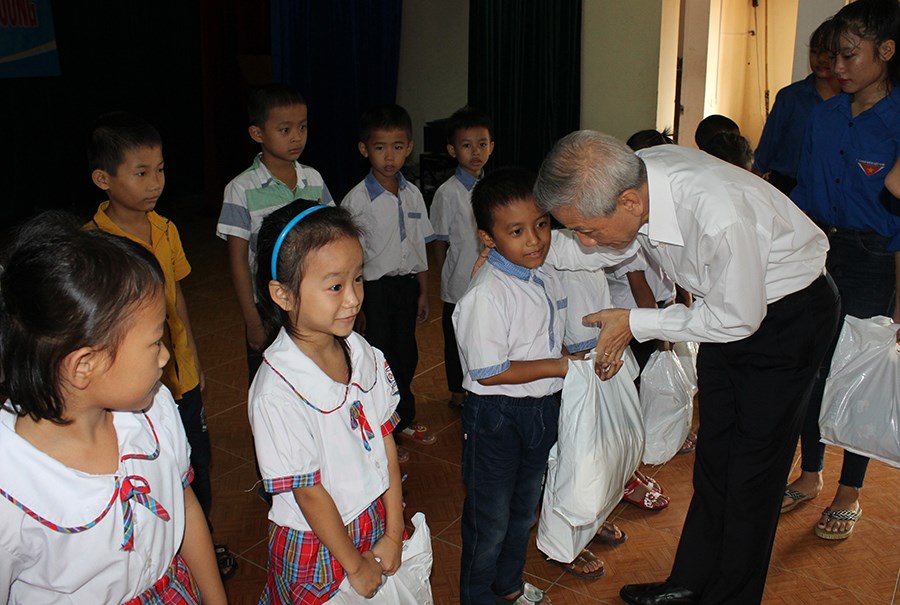 Mr. Nguyen Huu Qui - Chairman of the Board Directors representing the Company to give gifts to children at Viet Xuyen Primary School, Thach Ha District, Ha Tinh Province.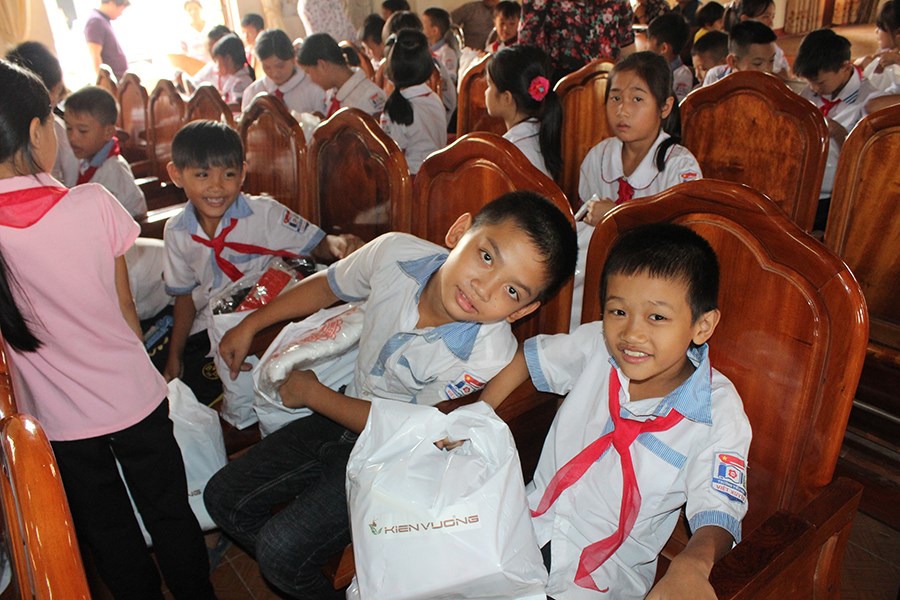 Farewell to the children in Viet Xuyen, the delegation continues to move to Thuong Loc primary school, Can Loc district to give the remaining 150 gifts. Welcoming the delegation is Mr. Phan Dinh Chinh - Principal of the school and the warmth and intimacy of many parents that exuded from the simple, seasoned faces of the people in the harsh central region.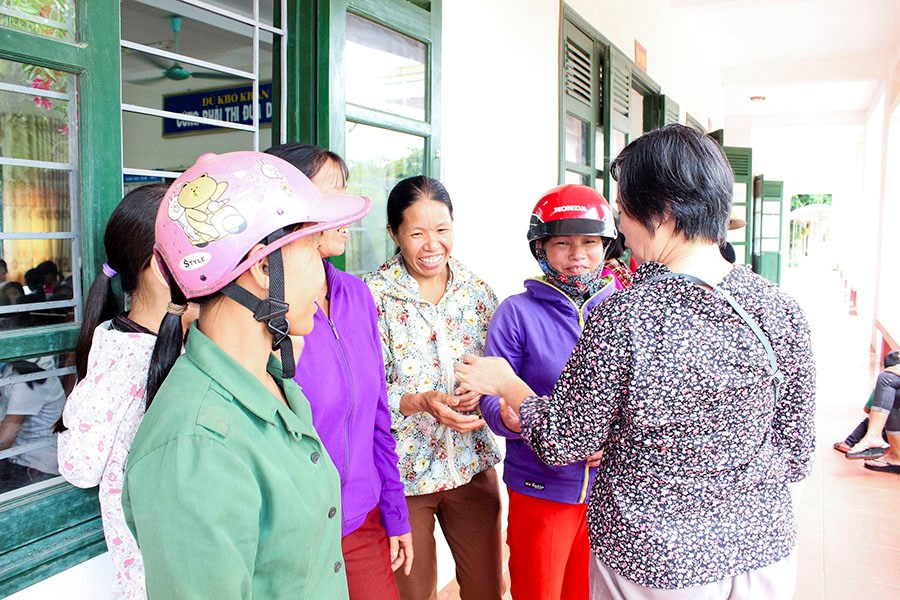 The eyes and the tight fists of the people here will probably be the most memorable moments in the charity journey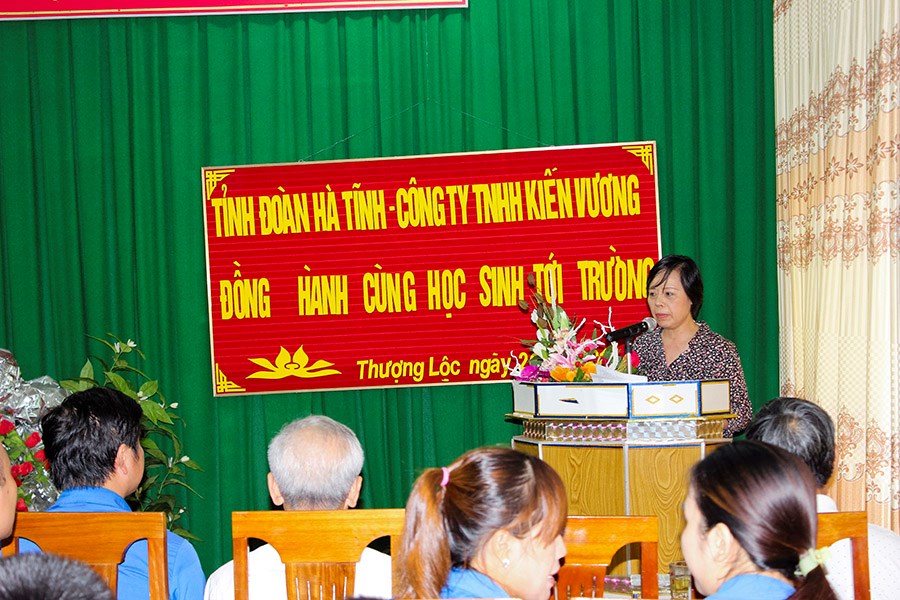 Ms. Nguyen Thi Thu Hien - Vice Chairman of the Board of Directors expresses her desire to share with the children a difficult part in life, so that they can go to school with peace of mind for a brighter future.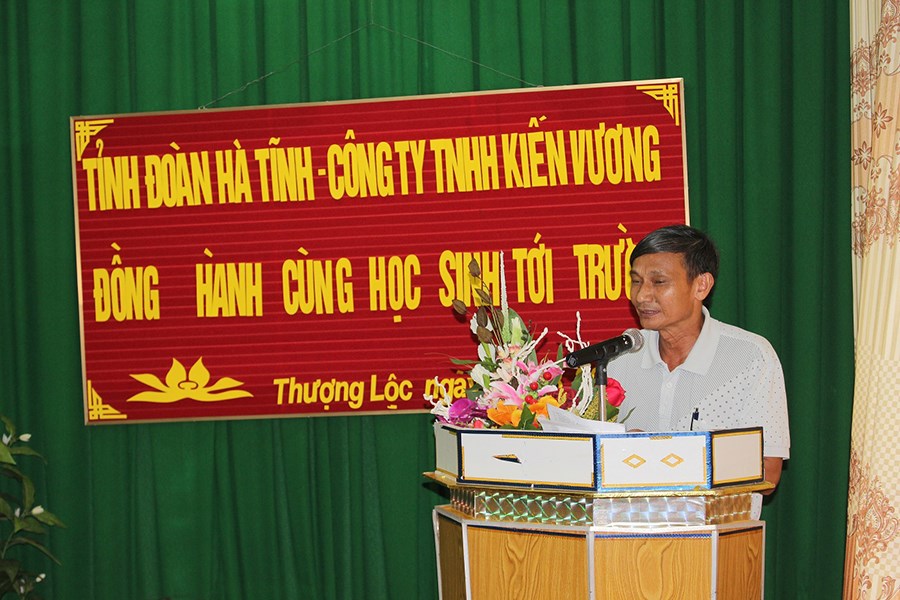 Mr. Phan Dinh Chinh - Principal of Thuong Loc Primary School sends thanks to Kien Vuong company for giving them meaningful gifts before the new school year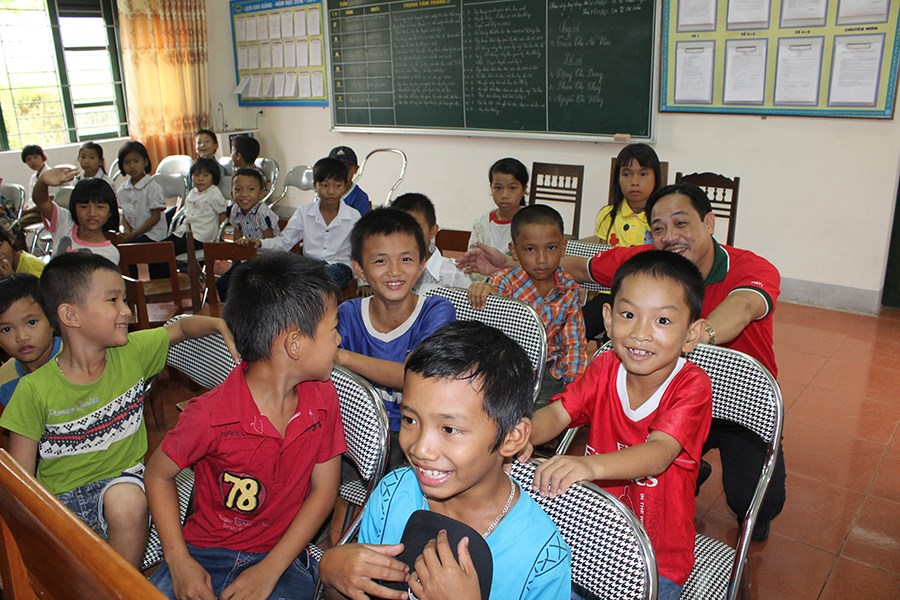 Mr. Nguyen Khanh Trung - Deputy Director of Human Resources, Kien Vuong Company's Branch in Bac Ninh and the children of Thuong Loc Primary School
Mr. Nguyen Vu Toan - Deputy Director of Sales, Kien Vuong Company's branch in Bac Ninh giving gifts to poor students who overcoming difficulties in Can Loc district
Hopefully these small gifts will be a source of spiritual encouragement, contributing to sharing with thes students a difficult part in life, giving them more motivation to overcome the situation and move on to the upcoming new school next year
Leaving Thuong Loc Primary School, on the way back, the delegation goes to offer incense at Dong Loc T-junction relic - a place that has become a legend of the unparalleled wisdom and courage of Ha Tinh people, specifically, here places the youth volunteer force with a heroic fighting spirit, under the fierce rain of bombs and bullets day and night and help ensure the road and traffic to the front line. Thousands of heroes and martyrs fell down here, including 10 Dong Loc girls who died at a very young age.
Bringing smiles, the brightness of children's eyes, and the sacred atmosphere at Dong Loc T-junction marking a heroic history of the nation, we bid farewell to the heroic Ha Tinh land to return to the present, prepare for many next trips with more practical gifts, reaching many disadvantaged children across the country.
---
Another news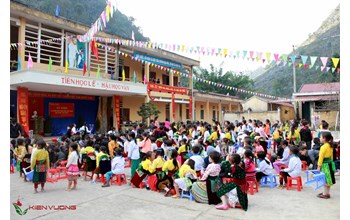 THE JOURNEY TO SPROUT ON THE ROCK
Somewhere on this S-shaped strip of land, there are still many miserable people that even if we have been there, we can only feel a part of their hard life. People often give the land of Ha Giang beautiful nouns such as "beautiful in the heart of the Tam Giac Mach flower season", "ideal roads", "beautiful scenery like paradise"... but perhaps nature That ideal and beautiful path is not for you - the hardy sprouts stretching themselves on the rock.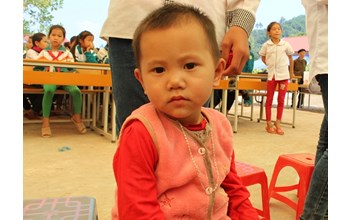 SAD STORY IN A REMOTE COMMUNE
What do you see after the past volunteer trips? Is not seeing the things around that people call fame. Only see love when sharing each other pieces. Is it a piece of cake, a sweater or a pair of forest sandals. What do you see beside the cheers ? It's a picture of a 5-year-old boy carrying his brother who is thirsty for milk. In that area, people must find ways for a proper meal ? YES. That is right. The children in the highlands are still suffering!